Mix Vixen was started by a couple of ladies who love playing with random generators. Sometimes we even hijack friends and strangers to help create the madness. If you'd like to get to know us you can snoop our deets down below.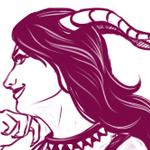 Vay
The Demon Mistress
The generator madam, Vay creates the code that makes these generators work. She likes being a demon, ship girls, mocha, and making things kinky.
A Dragon
We have a secret helper and he is a dragon. But he is a dragon that would rather eat people than talk to them so we keep him in his cave with computers and tribbles. He helps us with coding and is occasionally not evil.